@Vallug... I'm so sorry, I must've gotten confused while typing on my cell phone. I was actually replying to you, not Kandu. On top of that, somehow I mashed in my reply to Alberto's
Time Splitters
reference into my reply to you: what utter nonsense it probably seemed

@ Alianine... dammit, partly because I was playing on my laptop with small speakers but mostly because I'm usually oblivious to game/movie soundtracks, I didn't even notice the
Bioshock Infinite
(BI) soundtrack: not a single note. I know this will seem like a barbaric heresy for normal-eared folk, but for me even the finest music just disappears into the background unless I actively listen to it while not doing something else (playing a game, reading, watching a movie, studying, working etc.). I'm an ok listener and I like good music, but regrettably I'm a cloth-eared dolt when it comes to multitasking.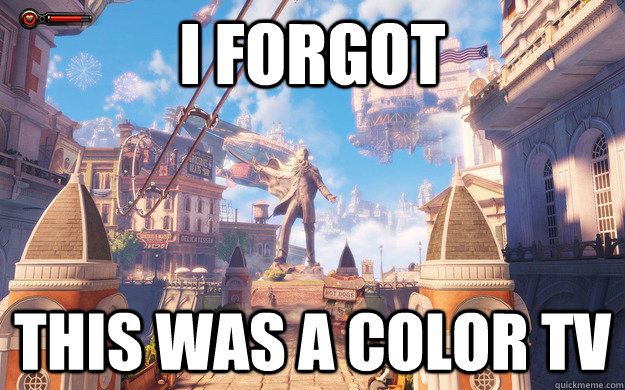 However, I suspect that the
Bioshock Infinite
soundtract is good -or at the least, very clever- because the other aspects of art direction were so excellent (I just couldn't get into the title because the gameplay didn't grab me personally, I think it was the uninspired AI... apart from Elizabeth). Personally, I found the BI story just fine -even very good- for a videogame. Interestingly, Seith didn't like the BI story, and was even moved enough to write a blog post on SeithCG about it. Honestly, I think his expectations for game stories are higher than mine. In addition his sensibilities with regard to storytelling may be more refined than mine too.
Anyway, I'll have a listen to the BI soundtrack!
By the way, THE Kwisatz Haderach is actually a member here on the GoaT forum, so he'll be exceedingly pleased that you appreciate his music. I just had a listen and I really like 'Stones'