Ok folks, here is some mind-bending news.
As you probably know, Seith is very cautious and secretive. I usually stay out of the loop of his development process, because I understand that he is just too darned busy to tell me every detail.
However, recently, Seith needed some compatibility testing done on a very early test build of the GOAT test level. He wanted to see how well it ran on different-spec machines.
SO I GOT TO PLAY TWO EARLY BUILDS OF GOAT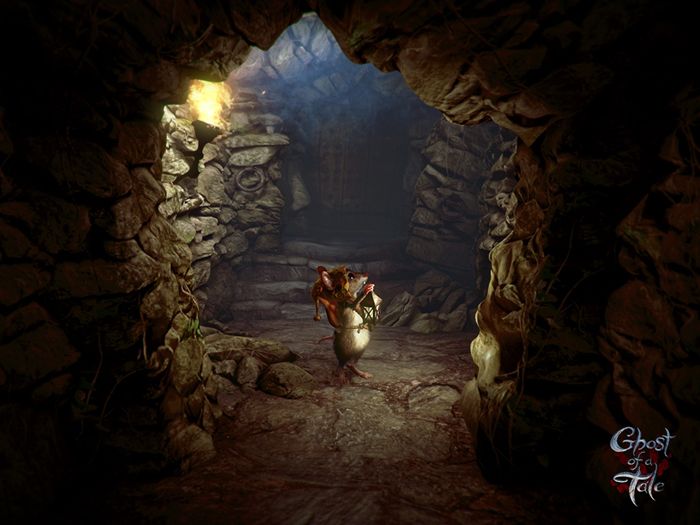 As you've seen from the photo above that Seith posted on this website blog, the test level is set in some underground tunnels. At the moment, there are no other creatures, there is just the main character, some tunnels, doors and a few game objects to interact with (like that lantern... you can pick it up to help light your way, which is nifty and beautiful).
The first thing that struck me:
GOAT looks gorgeous
... AAA-quality. Everything from the lighting, textures, animation (of course) and game-objects looks superb. It is quite like playing an animated movie. The main character is VERY cute... he is slightly goofy, and huggably innocent. I just love it when he opens his mouth and looks wide-eyed around the environment with enthusiasm.
The second thing: the
mouse, other objects and the environment interacted perfectly
. Walls and objects felt solid, and everything collided and interacted beautifully... there was no object interpenetration and no physics weirdness whatsoever. Everything that looked like it could be jumped on, you could hop up onto and there was no irritating 'getting trapped behind things or blocked by invisible things' at all.
The third thing: the
controls (running and jumping) feel just right
. I used both an XBox/PC joystick (recommended) and the the mouse's responses are beautifully-weighted and precise. When I commented to Seith that the controls felt 'platformer-like' (i.e. tight and good), he said that there WILL be platforming elements in GOAT. Done cleverly, this minor platforming aspect will work really, really well in the game I think. It was wonderfully satisfying just to scamper, jump and sneak about the dungeon.
The fourth thing: Jeremiah did a new deep, powerful, almost growling, orchestral piece for the ambient soundtrack. Imho, it will really suit
a dark, challenging section
of the game.