Dimensions of Quality - what is your priority?
Posted: Thu Jun 19, 2014 8:04 am
Following up on some PMs with EvilKing, I've been thinking about the areas that define a 'good game', which key areas are important and, of these, which have the higher priorities....
What areas are most important to you in other games and, of course, GOAT?

Here are my thoughts, though I could easily swap length* VS graphics: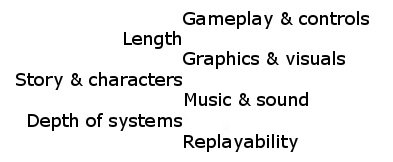 *By 'length', I don't mean too long - for me an 8 hour campaign is PLENTY.