This is something we have kind of touched on in other threads, but I thought you guys might be interested in a post on GOAT's tone. This comes from I've gleaned (mostly) from the publicly-available images and video going as far back as the IGG campaign and beyond, along with the playtest that I did a few months ago on a very early build of GOAT (testing compatibility and frame rate on different systems).
Disclaimer: As you all know, Seith is (wisely) really careful about sharing info and making promises... so (apart from the playtest on a stunning, but empty, dungeon level with no AI) I have no inside information making this post
Personally, I've wondered a lot about GOAT's tone, ever since I saw the first video. As you know, Tilo is super-cute and so omg huggable! But, in the (very early) video, there are hints of darkness too: terrifying-looking rats, Jeremiah's awesome mature music, the painterly art/rendering style (ok, maybe this is my imagination), and the island's foreboding weather.
As you may remember, I was really pleased with my playtest for several reasons... interestingly, although it was set in a dungeon, I got a less of a feeling of darker elements (though to be fair, the early level was bare of many elements that would influence tone).
Anyway, I'd be really interested to hear... what is your personal flavor in tone / mood / approach? For example, just for fun, let me throw out two really extreme instances:
--- a lively and lovely experience, featuring the cutest anthropomorphic animals ever...
hugely charming, entertaining and uplifting?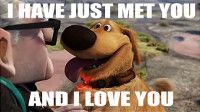 --- a richly-textured, mostly-adult experience exploring themes of history, truth, violence and exploitation.. but with adorable animals.. kind of the video game equivalent of Animal Farm...
really intense, smart and thought-provoking?