ITS A DANGEROUS WORLD OUT THERE

You are Tilo, a courageous minstrel Mouse on a perilous quest to find his true love. Use stealth and cunning as you explore Dwindling Heights Keep—from its tallest towers to its deepest dungeons, evading its dangers and discovering its most ancient secrets.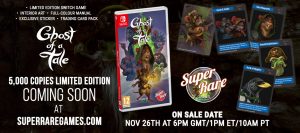 Hello everyone! This is just a reminder that the upcoming limited Nintendo Switch physical edition of Ghost of a Tale (from Super Rare Games) will go on sale on November 26th. Apparently these could go really fast so don't forget to mark the date… 🙂...


Subscribe To Our Newsletter