All about the upcoming Early Access!
Welcome everyone! The early access version of Ghost of a Tale is nearly upon us! So it's now time to talk about specifics.
The game is going to be available for PC in early access on Steam, GOG and this very site (with the help of the Humble widget).
If you're a backer of the Indiegogo campaign you can look forward to an email from us within the next 24h to 48h. You'll be able to choose which key you'd like to receive and when you get that key it will let you play the game right away! 🙂
For everyone else, although you can't yet buy the game you can still access the store pages by clicking on either of the pictures below.
Console versions will come at a later time since the PC release must be done before anything else is possible.
But before I continue talking about the early access let me say this: I recently looked at the last trailer (from 2014) and was really surprised by the difference in visual quality. So I captured a frame and tried to match it roughly to the same angle/time-of-day. First the 2014 version: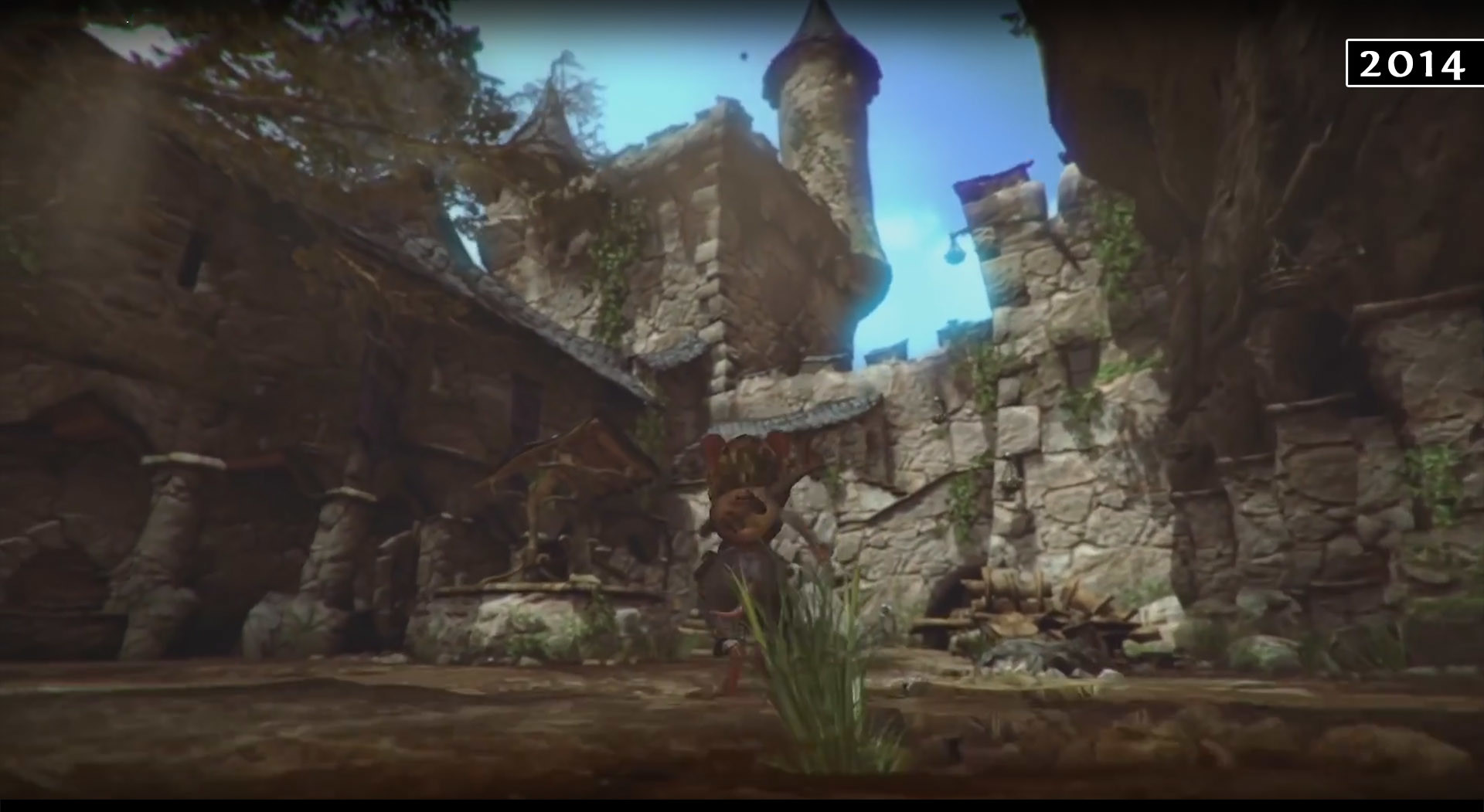 And here's with what the game looks like today. I really need to start working on a new trailer!
So much has changed since then. And I don't mean just the graphics! 😀
But let me go back to the topic of the early access. Actually instead of boring you with a dry litany of information let me break it down into a series of questions you may ask yourselves.
What are the technical requirements for Ghost of a Tale?
Well, you need a gaming PC of course. By this I mean essentially a graphics card that can run modern games. Laptops which are mostly used to browse the web or play older games probably won't cut it.
On the CPU side an Intel i5 @ 2.5Ghz is the minimum. On the video card side, see if you can locate your card on this chart (available on videocardbenchmark.net) and look at its score: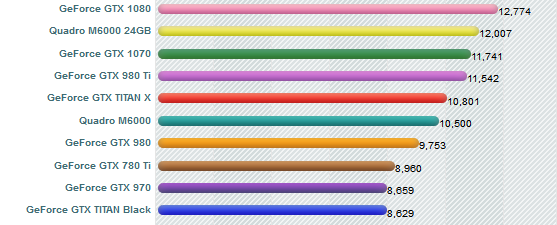 In a nutshell, here's what to expect (assuming your CPU is not the bottleneck in your machine):
If your video card is well above 7K you'll have a grand old time, period!
If your video card reaches 4K or more, you're hunky-dory; that would pretty much warranty 1080p at a solid 30fps.
If your video card is between 2K and 3K you might have to lower the resolution to 720p in order to maintain 30fps.
If your video card is well below 2K I advise you only buy Ghost of a Tale with the understanding that you will not get a smooth experience unless you bring down the resolution even more.
If your video card is well below 1K then I advise you do not buy the game as I cannot guarantee it will run as intended.
Do I have to use a gamepad to play Ghost of a Tale?
No. However, while the game fully supports mouse/keyboard it is fundamentally designed with a gamepad in mind (I use the Xbox One's).
Since Ghost of a Tale is a third-person game where body-awareness is fairly important it's just nicer and more precise to use a Gamepad. But in the end it's your choice of course.
What can I expect from the early-access version?
A beautiful place to explore, NPCs to encounter, secrets to discover, dialogs, quests, etc…
If you intend to immerse yourself in that world and try to do each quest then you'll have quite a few hours of enjoyment ahead of you.
The early access represents roughly 25-30% of the game (at most). But by a lot of aspects it only shows a VERY LIMITED slice of what the final game will be. We removed some mechanics, enemies, and systems and walled off several locations linked to quests that are not yet available.
Eventually you'll be able to explore the whole of Dwindling Heights and meet all of its denizens; this is just a portion of it.
(One last note: the "fancy hat" edition will arrive later on, either as an update to the early access or with the final version of the game…)
Is the early-access English-only?
Yes. For now. Dialogs and quests will evolve until the final game is complete, so if we translate the game now a lot of work is going to have to be completely redone later on. And at the moment we simply cannot afford to do this from a financial point of view (more on that later).
Here's a screenshot to provide some breathing space. Look, the sun is about to rise over Dwindling Heights…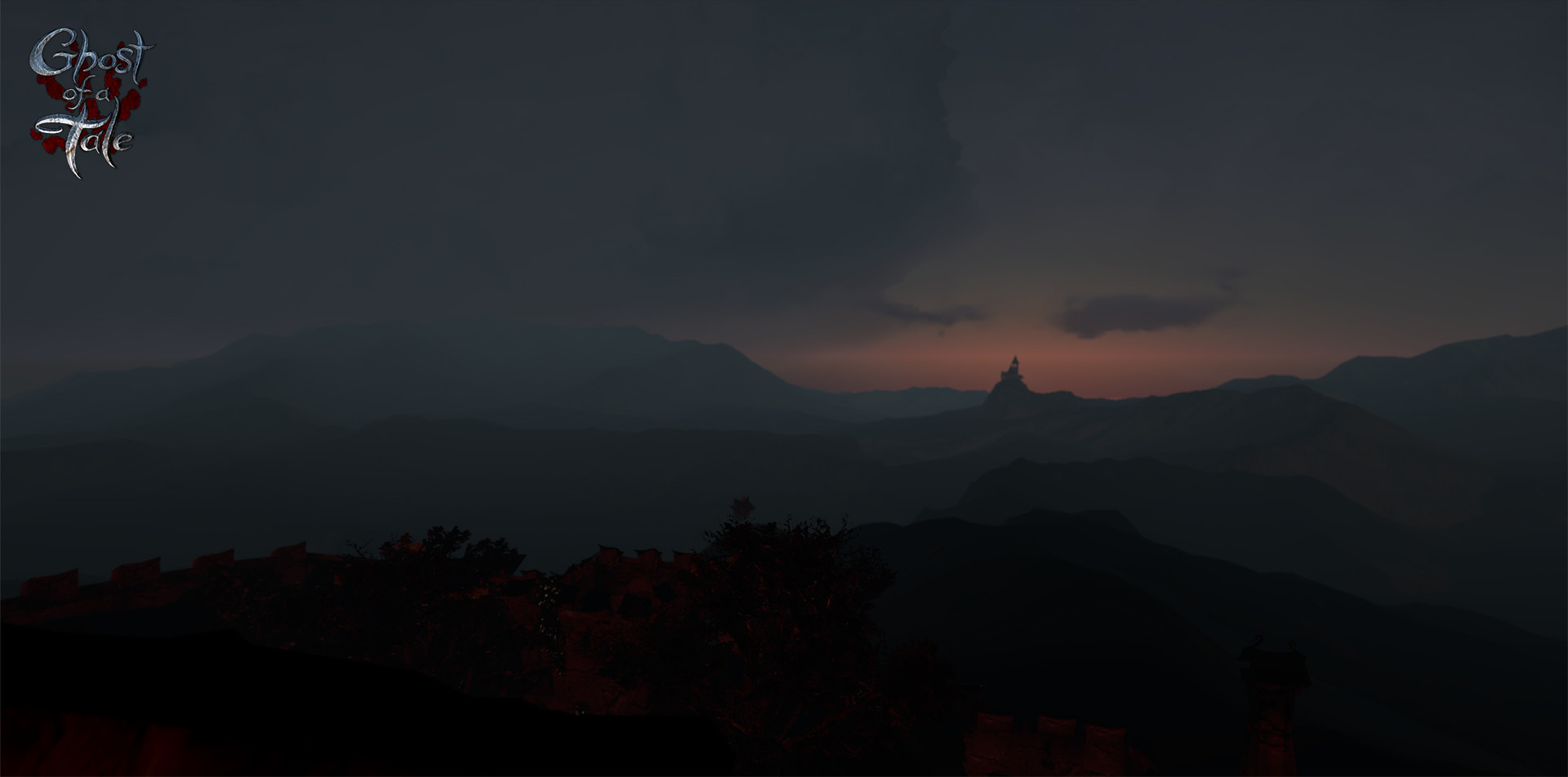 Why should I buy the game now instead of waiting for the final version?
That's a fair question and the answer revolves around money: there's none left.
Successful games' crowdfunding campaigns can reach a few hundred thousand dollars, sometimes even close to a million. The campaign for GoaT brought roughly $40K of effective budget.
As some of you know I've been working on Ghost of a Tale each and every day of my life for the last three years and I've paid myself $500 per month. The rest of the money went to buy hardware, licenses and of course to compensate my collaborators.
Note that I'm not complaining at all; no-one is forcing me to create Ghost of a Tale!
Now we could very well start a new crowdfunding campaign but it would require quite a lot of time and energy and it would push back the game by as much. I prefer to put that effort into development. And given the advanced state of Ghost of a Tale I think the early access route is the best for everyone.
That being said I totally respect players who would rather play the game when it's finished and prefer to wait for the final version to be released.
If however you choose to buy the pre-release version, know that you are actually making the development of Ghost of a Tale possible. Plus you get a better price while the game is still in early access since the final version will likely be more expensive when it's out.
And if I'm still not convinced…?
Well, what can I say. How many games let you play as a minstrel mouse in a world that looks right out of a fairy tale? Which doesn't expect you to slaughter anyone and instead appeals to your sense of wonder…? 🙂
If you believe in the game then please, spread the word! Let your friends know that the pre-release is coming very soon!
I'll do an update to let you guys know as soon as the pre-release is out for everyone. If we don't discover anything catastrophic during the next few days then everyone will get a chance to experience Ghost of a Tale next week, on Monday the 25th of July… 🙂