How to upgrade contribution to another perk level?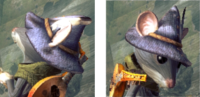 This quick update is for anyone wondering: "How can I upgrade my contribution to another perk level?"  Unfortunately Indiegogo does not offer a built-in solution for that. So here's what you should do if you decide to upgrade your contribution…
– First, make a new contribution covering the difference between your current perk level and the one you aim for. So for example if you are currently at a 5€ perk level and you'd like to move to a 15€ perk level, just make a new contribution of 10€.
– Then please send me a private message telling me you did so. This way I will be able to manually keep track of your upgrade. A big thank you to everyone thinking of upgrading!