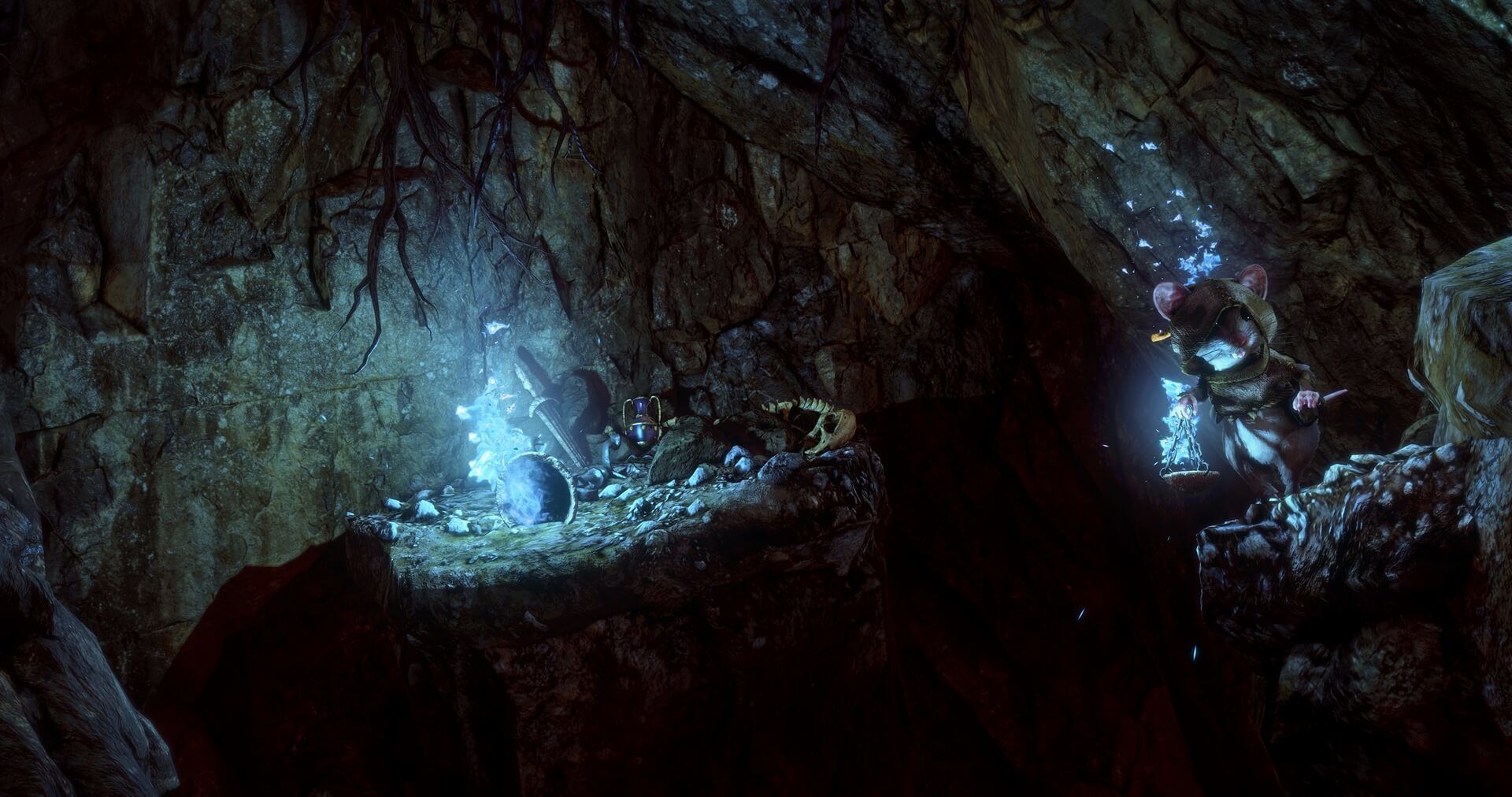 Catacombs Raider
Welcome to this new Ghost of a Tale update! 🙂
We've been working on so many things over the last few weeks that I have a hard time keeping track! But just to summarize (in no particular order): new quests, dialogs for new NPCs (where Paul is doing a bang-up job as usual), optimizations, whiteboxing, Xbox One certification and new locations!
And speaking of new places you'll get to explore in the game… As promised in the previous update here's your first look at the catacombs sprawling under Dwindling Heights!
Catacombs!
The catacombs are the burial ground for soldiers and commanders whose bodies were entombed over the centuries since before Dwindling Heights ever became a prison.
As expected it's a dark, eerie place. No doubts quite dangerous for a minstrel mouse!
It is whispered there might even be relics of the War of the Green Flame under there. And it's probably haunted too! Although spiders might make quicker work of explorers than ghosts. But who knows…
One thing is for sure though, the Dying Lights lend a chilly atmosphere to the place. Their spectral blue flames do not give out any heat but they possess the distinctive feature of being virtually eternal. Indeed they cannot be put out by normal means. Which is why they're often a fixture of pirate ships as even the strongest of storms won't snuff them out.
Some sailors even say on a calm night while sailing on lake Vaelia you can sometimes catch a glimpse of the ghostly blue lights from long ago sunken ships deep under the waters.
(Oh and just to be clear: the catacombs are not yet in the early access version of Ghost of a Tale. We still have to connect several elements before you get a chance to explore them 🙂 )
Magnet Aim:
One of the aspects of the game that was recently overhauled is the throwing mechanics. In the game Tilo can throw several types of items (sticks, bottles, slime jars, etc…) to different effects. For example if you time your moves properly you could throw a bottle at a guard's head to momentarily knock him out.
But up to now it was a finicky business. You had to perfectly align your target then throw and after that it was literally hit-and-miss. In short there was really no way to precisely aim at something.
As a result the experience wasn't really fun and didn't feel responsive enough. So I recently implemented a system we baptized "Magnet Aim". It's not exactly a locking system in the traditional sense of the term as Ghost of a Tale is definitely not a fighting/combat game. So we came up with something else, as illustrated by this short video:
(Note that for the video I made the targeting distance longer than in the actual game, for testing purposes)
Basically you just need to aim roughly in the right direction and the targeting reticle with snap to the relevant place (within a certain threshold of accuracy). If you throw at that moment, Tilo will send the projectile flying with mostly predictable results.
Now of course if you deviate a lot with the camera (say you aim wildly to the side of your target) then the aiming reticle will snap back to the center of the screen and Tilo will simply throw straight ahead. Similarly if your target is moving fast then it might not be a sure hit anyway.
We feel it's a nice mixture of getting a little help from the system while still requiring the players to know what they're doing. Of course you can turn off that feature in the gameplay options if you prefer to solely rely on your skills.
Loading Speed:
In the previous update I mentioned our new reloading process. So I thought I'd just show you a short demonstration of its speed. Please keep in mind that my machine has a solid-state drive so it's already pretty fast.
(Please note that in this video I'm reloading a save located at a completely different place and progress of the game)
In the previous version when reloading a save we also reloaded almost the entire game (in order to reset things back to their default state). But we reworked our data managing system (thanks to Cyrille) and are now able to surgically reset things in the game's world as needed. So we don't have to wait for all the game's locations to be read again from the disk.
This might not seem like a big deal for very fast gaming PCs but it makes a lot of difference on consoles and more modest PCs.
That's it for this update. Thank you for coming by and as usual don't hesitate to leave your questions/remarks/support down in the comments section! See you in the next update! 🙂