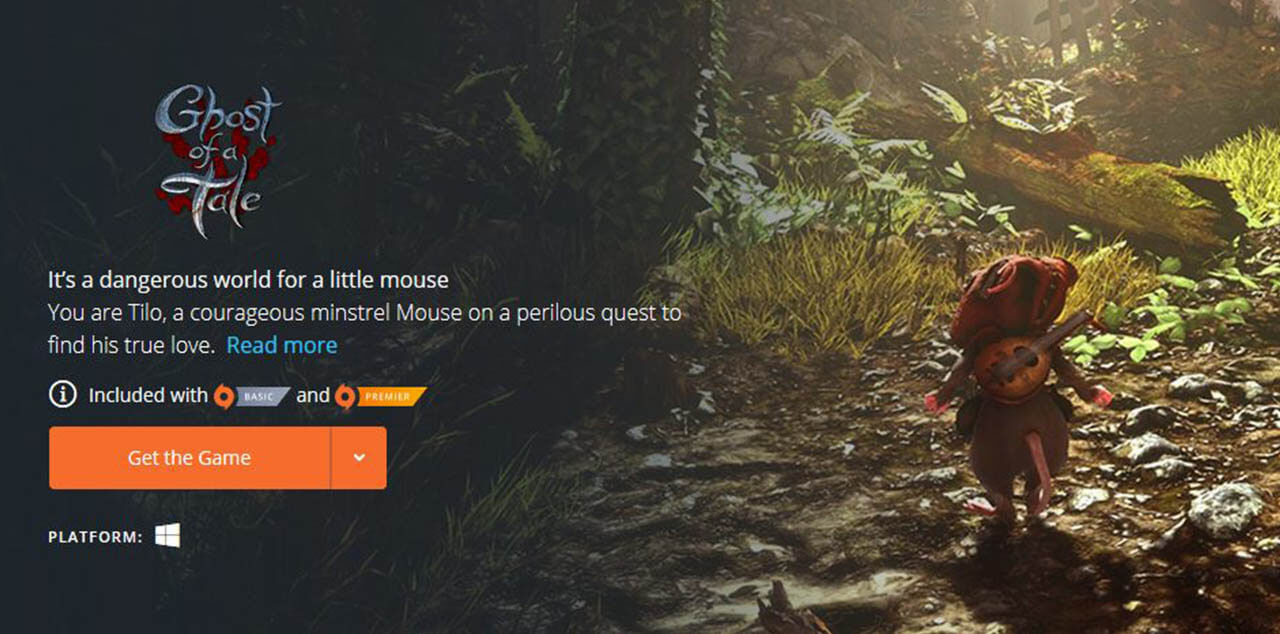 Ghost of a Tale on consoles, more music!
Hello everyone, welcome to this Ghost of a Tale post-release update! 🙂
You may wonder what we've been up to since the game's release back in March, so let me start by saying that we've been actually supporting the game by outputting bug fixes and improvements, so much so that we're today very proud of the current state of the game.
That being said, we're still going to improve Ghost of a Tale from a musical point of view! But more on this later…
We have found a distributing partner (Plug In Digital) who's now taking care of making the game available on many different distribution platforms on PC as well as other international markets.
Incidentally, a new place where you can get Ghost of a Tale is EA's Origin platform:
Ghost of a Tale on Consoles:
On the road to releasing Ghost of a Tale on the Xbox One we have reached a tremendous milestone: indeed we've just received Microsoft's certification! Among other things, it means the final version of Ghost of a Tale actually runs on the Xbox One without setting fire to the console, which is great, right?!
More seriously though, now that this important step is behind us, it leaves us free to polish the last details and integrate the most recent bug fixes (we've recently put out a small patch for the game on PC). In terms of a release date we can't say anything more precise yet, except that we are aiming for December. There's still  a lot of moving parts though so please be aware that this is our hope, as opposed to a solid promise.
In any case we can't wait for people who played the Preview version of the game to find out about the new characters, locations, quests, etc. Hopefully new players will like what they discover as well! From a visual standpoint, the final version provides better textures, lighting and dynamic resolution.
Here's a quick video capture of the game running on the Xbox One. The audio track is one of Tilo's songs by ContainHer. The fingers on the gamepad are by Cyrille.
Now regarding the PS4 version, I'm happy to announce that we've hired Seaven Studio to take care of the port. They'll start working on it within the next month or two and we hope to be able to release the game on Sony's console early next year.
Finally regarding a potential port of Ghost of a Tale to the Nintendo Switch (since we get quite a few requests about that), let's just say that my stance has slightly changed from "I'm not sure that's even possible" to "we might look into it in the future". 😉
Music:
At the start of this update I mentioned something about music, and here it is: the console version of the game will feature even more tracks (that's more than 23 additional minutes of original score) by composer Mathieu Alvado who is taking over from Jeremiah.
Those will be new character themes and ambient tracks to enrich the overall experience. They will be recorded live by none other than the London Symphony Orchestra. They will join the existing compositions on the game's soundtrack, which will eventually be made available on our site (no ETA yet, sorry).
Needless to say, those musical improvements will get integrated into the existing PC versions free of charge.
Website:
I'm also very happy to say that this is one of the last updates on this site, as we've been working hard (thanks Stefan!) on designing a brand new Ghost of a Tale website, including redesigned forums and much improved reactivity! We should be able to roll this out next month, barring any unforeseen technical incidents…
That's it for this update! I'll leave you with a recent in-depth interview (in French, but Google Translate is your friend) I did with 3DVF. Ghost of a Tale is mentioned of course, as well as the use of Unity, and even some movies I worked on!!
See you in the next update! 🙂